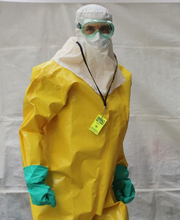 The Center for Disease Control, abbreviated to CDC, is a location and organization mentioned in AMC's Fear The Walking Dead. It has a quarantine station in Los Angeles, California. (This is based on their real world counterparts.[1]) Members of the quarantine station are seen on the streets of Los Angeles after the shooting of the Homeless Man by members of the LAPD.
Appearances
Edit
In "So Close, Yet So Far", workers from the CDC arrive to Los Angeles, where they bag the body of an infected, now deceased homeless man.
References
Edit
Ad blocker interference detected!
Wikia is a free-to-use site that makes money from advertising. We have a modified experience for viewers using ad blockers

Wikia is not accessible if you've made further modifications. Remove the custom ad blocker rule(s) and the page will load as expected.