David Alpert
is an executive producer on
Fear the Walking Dead
.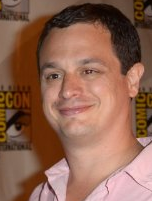 "
One of the things we studied [when we were developing the show] was the misinformation in natural disasters. Everything from what happened in New Orleans following Katrina, to blackouts in New York after 9/11. Watching how that played out–not the real story–the wrong stories that got out there that inflated paranoia–like the giant marauding gangs at the Superdome. How does that get out there? How does that start? How does that change both better or worse the journey for our characters?
The linear flow of information is like a 1950's style science fiction, you get some things right but you imagine as stuff starts happening people's social media accounts are going to blow up. Is that real? Is that a stunt or a marketing thing? Are they trying to promote something? You're not going to know what to think about it. We had this the other day with ebola. Is that the end of the world? I don't know. Most people just changed the channel to find the sports. Watching people absorb information and get wrong information is [an] essential element of what we're going to explore.
"
 
References
Edit
Ad blocker interference detected!
Wikia is a free-to-use site that makes money from advertising. We have a modified experience for viewers using ad blockers

Wikia is not accessible if you've made further modifications. Remove the custom ad blocker rule(s) and the page will load as expected.