Dominic Fratto is an unseen character mentioned in Season 1 of AMC's Fear The Walking Dead. Dominic attends Paul R. Williams High School.
Dominic Fratto is mentioned when Madison Clark speaks with Tobias. Madison asks Tobias if Dominic is still bullying him; Tobias answers that it stopped, and that he now tutors Dominic in Algebra I.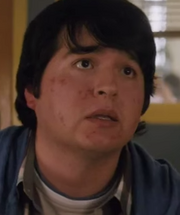 Ad blocker interference detected!
Wikia is a free-to-use site that makes money from advertising. We have a modified experience for viewers using ad blockers

Wikia is not accessible if you've made further modifications. Remove the custom ad blocker rule(s) and the page will load as expected.