The El Sereno district is a location in AMC's Fear The Walking Dead. It is located in Los Angeles, California. It is a major setting in Season 1. It is the home of Travis Manawa, Madison Clark and her children before the outbreak, and during the early stages of the outbreak when it also housed Travis' ex-wife, his son and the Salazar family. At the start of the apocalypse it housed the El Sereno Safe Zone.
In the real world it is the oldest community in Los Angeles, California. El Sereno's history dates back 10 years before the City of Los Angeles itself was established. El Sereno is also Los Angeles' easternmost neighborhood.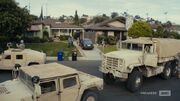 Ad blocker interference detected!
Wikia is a free-to-use site that makes money from advertising. We have a modified experience for viewers using ad blockers

Wikia is not accessible if you've made further modifications. Remove the custom ad blocker rule(s) and the page will load as expected.