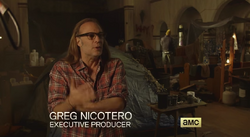 Greg Nicotero is a special make-up effects creator and executive producer on AMC's Fear The Walking Dead.
Nicotera has a history of working with zombies, one of his first jobs in special effects makeup was on the George A. Romero film Day of the Dead (1985), working for make-up effects veteran Tom Savini.
In 1988, along with Robert Kurtzman and Howard Berger, he formed KNB EFX Group, a special make-up effects studio which has gone on to work on over 400 film and television projects. KNB has won numerous awards, including an Emmy Award in 2001 for their work on the 2000 Sci Fi Channel miniseries Frank Herbert's Dune and an Academy Award in 2006 for achievement in makeup for The Chronicles of Narnia: The Lion, the Witch and the Wardrobe.
He is currently working as co-executive producer, special make-up effects supervisor, and occasional director on the AMC TV series TWD and FEAR. Nicotero has directed 11 epsiodes of TWD and is the creator of the webseries The Walking Dead: Webisodes
Image gallery
Edit
Ad blocker interference detected!
Wikia is a free-to-use site that makes money from advertising. We have a modified experience for viewers using ad blockers

Wikia is not accessible if you've made further modifications. Remove the custom ad blocker rule(s) and the page will load as expected.