Thomas Abigail is a character from AMC's Fear The Walking Dead. He is portrayed by Dougray Scott.
Biography
Edit
Background
Edit
Thomas Abigail is a Caucasian-American male in his 40's.
Thomas is introduced in this episode via flashback. At first, he was a victim of Victor Strand's money theft scheme. Instead of calling the police, he was impressed by Strand's initiative. They formed a business partnership that later evolved into a romantic relationship. He is later seen sunbathing with Victor at his home in Mexico, trying to persuade him not to go to Los Angeles because of the rioting.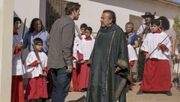 Thomas drives up to a church in
Rosarito, Baja California
to try and persuade the Parish
Priest
and his congregation not to go ahead with their planned attack on the compound as it would result in their death. However, both the priest and his congregation have being poisoned via poisoned communion wafer by
Celia Flores
. Thomas is bitten (offscreen) by one of the infected(likely the priest that he was embracing) and is later comforted by Strand when the group finally arrives at
Rosarito, Baja California
.
Thomas was later shot in the head by Strand in order to prevent reanimation.
Appearances
Edit
He is the second LGBT character introduced.
Image gallery
Edit
References
Edit