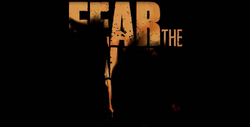 Each episode of Fear the Walking Dead is introduced by a title sequence, during which the show's theme music is played.
The first season is introduced by a brief title sequence, which simply displays the show's logo, and credits Robert Kirkman and Dave Erickson. It's uncertain at this point if this introduction will be the same in Season 2.
Ad blocker interference detected!
Wikia is a free-to-use site that makes money from advertising. We have a modified experience for viewers using ad blockers

Wikia is not accessible if you've made further modifications. Remove the custom ad blocker rule(s) and the page will load as expected.