The West View Library is a location in AMC's Fear The Walking Dead. It is located in Los Angeles, California.
It was a haven for an unknown number of refugees during the early stages of the outbreak. At some time before Moyers insisted on Travis Manawa accompany him and his team outside the safe-zone, the building hosted an outbreak of its own. After becoming overrun with infected, the National Guard made an attempt to storm the place and clear it, but withdrew after sustaining casualties. The remainder of the national guards abandoned their post and claimed to be heading for San Diego.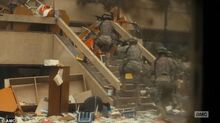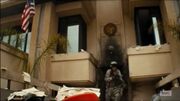 Ad blocker interference detected!
Wikia is a free-to-use site that makes money from advertising. We have a modified experience for viewers using ad blockers

Wikia is not accessible if you've made further modifications. Remove the custom ad blocker rule(s) and the page will load as expected.